March 29, 2006 Playlist
CLASSIC ALBUM OF THE WEEK

Aphrodite's Child "666" 1972 (Greece)

Evangelos Odysseas Papathanassiou, better known as Vangelis, scored and arranged this double-album prog rock masterpiece with his band Aphrodite's Child in 1970, but the record company sat on it until 1972. And even then, this album was still years ahead of its time! Easily the best of the "religious" concept album / rock operas of the era, "666" is a faithful musical adaptation of the Book of Revelations, depicting the end times and the rise of "The Beast." This album makes a thrilling and sometimes frightening movie for the mind . . . and according to the liner notes, it was recorded "under the influence of SAHLEP" . . . whatever that means!
N = New Release

Vangelis' 63rd birthday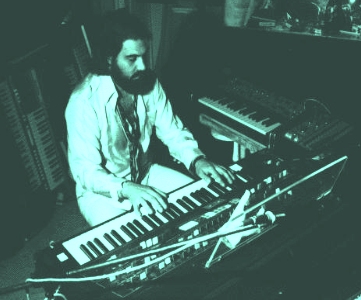 Vangelis - Heaven & Hell (1st movement)

Aphrodite's Child (feat. Vangelis) - The Four Horsemen / The Lamb CLASSIC ALBUM OF THE WEEK

Stereolab - Excursions Into Oh, Ah-Oh (N)

Books On Tape - When Siblings Attack (N)

Oh Astro - Lame Art Qwert (N)

Moov Tracks - The Last Funeral Song (N)

Sound Directions (prod. Madlib) - Dice Game (N)

Anthony Marinelli / Herb Alpert remix - Green Peppers (N)
Mizar - King Of The Stars (N)

Super 8-Bit Brothers - Nebulon (N)

Each Other - What's In Montreaux? (N)

Untied States - Martyrs Have Nothing To Live For / You On Your Own (N)

Liars - Drum And The Uncomfortable Can (N)

Built To Spill - Goin' Against Your Mind (N)

Landing - How To Be Clean (N)

Burning Star Core - Benjamin (N)

Dead Meadow - Let It All Pass (N)

Rogers Sisters - Your Littlest World (N)

Witch (feat. J Mascis) - Seer (N)

The Sword - Lament For The Aurochs (N)

Wolf Mother - Love Train (N)

Parchman Farm - Say Yeah (N)

Bad Wizard - Sky High (N)

Ennio Morricone - Giornio Di Notte (N)

Larry Marshall - Throw Me Corn (N)

Aphrodite's Child (feat. Vangelis) - All The Seats Were Occupied CLASSIC ALBUM OF THE WEEK
The Mops - Inside Looking Out (Animals cover)