July 5, 2006 Playlist
CLASSIC ALBUM OF THE WEEK

Parliament "Funkentelechy vs. The Placebo Syndrome" 1977 (USA)

There are several P-Funk albums that are like musical sacred texts, so we might as well choose this one as the COTW. George Clinton and his "funk mob" (recording here under the name Parliament -- Funkadelic was pretty much the same folks) ruled the 1970's with powerful music that combined the funkiness of James Brown with the heaviness of Jimi Hendrix and the Kosmikocity of Sun Ra.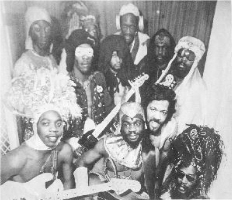 The second annual
Parliament / Funkadelic
Spectacular!!




Digital Underground

- Tales Of The Funky


Funkadelic

- One Nation Under A Groove


Bootsy Collins

- What's W-R-O-N-G Radio




The Brides of Funkenstein

- Party Up In Here




Parliament

- Flashlight

CLASSIC ALBUM OF THE WEEK



Funkadelic

- Uncle Jam


George Clinton and a million guest rappers

- Paint The Whitehouse Black


Funkadelic

- Mommy, What's A Funkadelic?



Parliament

- Funkentelechy

CLASSIC ALBUM OF THE WEEK


Eddie Hazel

- Physical Love


Bernie Worrell

- Much Thrust


Parlet

- Huff-N-Puff



Bootsy's Rubber Band

- Roto-Rooter


Parliament

-

Rumpofsteelskin




Parliament

- Loose Booty


Funkadelic

-

Loose Booty



(webcast version of the show ended here - the govt. doesn't want you to get too funkadelic!)



Funkadelic

- Get Off Your Ass And Jam


Funkadelic

- Free Your Mind And Your Ass Will Follow


Funkadelic

- Hit It And Quit It


Funkadelic

- Cosmic Slop (1976 version)


Funkadelic

-

I'll Stay







Funkadelic

- If You Don't Like The Effects, Don't Produce The Cause


Parliament

- Presence Of A Brain


Funkadelic

- Lunchmeataphobia (Think . . . It Ain't Illegal Yet!)



Parliament

- Aquaboogie (A Psychoalphadiscobetabioaquadooloop)