August 9, 2006 Playlist
CLASSIC ALBUM OF THE WEEK

Love "Da Capo" 1967 (USA)

Since Arthur Lee passed away this week, we shall honor him by making Love the first group to have two albums inducted into the CAOTW. "Forever Changes" (CAOTW for Apr 26, 2006) came out later in 1967 and is the group's best-known record, but the best moments on "Da Capo" are just as good, and furthermore this is the album that contained their only bona-fide hit single, the apocalyptic "Seven And Seven Is." The second side of the LP is a 19-minute blues jam called "Revelations" (working title: "John Lee Hooker"), which is often cited as the only thing keeping this album from "true classic" status.
N = New Release
R = Listener Request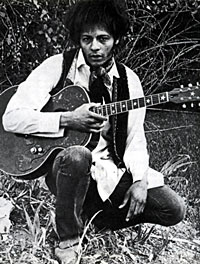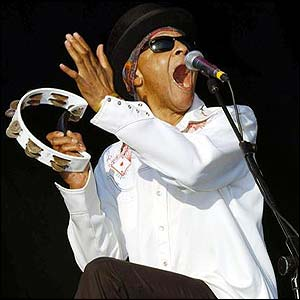 "Arthur Lee" Porter
March 7, 1945 - August 3, 2006
Okko

- East Indian Traffic




Erkin Koray

- Sir




Chico Magnetic Band

- Pop Orbite


The Free Pop Electronic Concept

-

FPET No. 1



Ten Years After

- Stoned Woman

(R)




Ten Years After

- 50,000 Miles Beneath My Brain

(R)




Ten Years After

- Spoonful (live)

(R)




Canned Heat

- Fried Hockey Boogie



Love

- Que Vida!

CLASSIC ALBUM OF THE WEEK


Love

- Seven And Seven Is

CLASSIC ALBUM OF THE WEEK


Love

- August


Love

- Signed D.C. (1969 remake)


Arthur Lee

- Everybody's Gotta Live





Archie Shepp

- Coral Rock


Magma

- De Futura



The Heads

-

Earth / Sun (N)


Steve Howe

-

Turbulence

(N)
Mystery Jets

- Zoo Time

(N)


NoMeansNo

-

I See A Mansion In The Sky (N)




Pink Floyd

- Free Four

(R)




Melvins

- Black Bock





West Coast Pop Art Experimental Band

- Shifting Sands




July

- The Way




Wizards From Kansas

- Flyaway Daze




Aorta

- Strange


Silk Winged Alliance

- My Hometown




The Unbelievable Uglies

- A Research Into The Soul of Psychedelic Sound