November 22, 2006 Playlist
CLASSIC ALBUM OF THE WEEK

The Jimi Hendrix Experience "Are You Experienced?" 1967 (USA/UK)

Ever since I first heard this album at age 14 it has been one of my all-time favorite records. Nobody ever came out with a more earth-shaking debut album, and even aside from the revolutionary guitar playing, this is a perfect collection of rocknroll songs. Some may claim the UK version of this album was better, but that's nonsense; the US version (released a few months later) replaces three non-essential tracks with single sides (the classics "Purple Haze", "The Wind Cries Mary" and "Hey Joe" -- I mean, how could this album NOT start with "Purple Haze"??) -- and furthermore, the album art on the US version is far groovier. Jimi would have been 64 years old this week.
N = New Release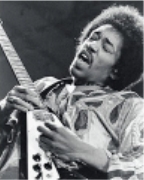 James Marshall Hendrix would have been
64 years old on November 27, 2006.
Pentagram

- Be Forewarned




Sir Lord Baltimore

- Master Heartache




The Troggs

- Evil




Edgar Broughton Band

- Evil




The Seeds

- Evil Hoodoo




Killdozer

- I Have Seen Grown Men Cry




Gang of Four

- What We All Want (2005 remake)





Jimi Hendrix Experience

- Love Or Confusion

CLASSIC ALBUM OF THE WEEK


Jimi Hendrix Experience

- May This Be Love

CLASSIC ALBUM OF THE WEEK


Jimi Hendrix Experience

- Bold As Love




Jimi Hendrix / Band of Gypsys

- Message To Love




Eddie Hazel (Funkadelic's original lead guitarist)

- I Want You (She's So Heavy) (Beatles cover)




Funkadelic

- Hardcore Jollies

Turn Me On Dead Man

- Cyclops (N)


Viva Voce

- Faster Than A Dead Horse (N)


The Big Sleep

- Son Of The Tiger (N)


Jucifer

- Pontius Of Palia (N)


Melvins

- The Hawk / You've Never Been Right (N)


Les Georges Leningrad

- Lonely Lonely (N)


Faghat

- #2 (N)







Styx

- Movement For The Common Man




Starcastle

- Lady Of The Lake




Gabriel Bondage

- Take It On A Dare





Earthling Society

- A Harvest Of Owls (N)




Meat Puppets

- We're Here




The Feelies

- Tomorrow Today




Blonde Redhead

- Astro Boy




Dinosaur jr.

- Yeah We Know




Flaming Lips

- Drug Machine In Heaven




Jade Warrior

- The Three-Horned Dragon King





Archie Shepp

- The Girl From Ipanema (Antonio Carlos Jobim cover)


Back to playlists