January 31, 2007 Playlist
CLASSIC ALBUM OF THE WEEK

The Sex Pistols "Never Mind The Bollocks Here's The Sex Pistols" 1977 (UK)

We generally prefer "obscure" or "forgotten" records for this hall of fame, but although the Sex Pistols' album is considered a classic and quite popular today, when first released it was actually a commercial dud in most of the world (except Great Britain where it topped the charts.) But history has been very kind to this album by a manufactured group with "no future" -- it finally went"gold" (500,000 units sold) in the USA 10 years after its release, and then only took another 5 years to reach "platinum" sales (1 million units), while it inevitably ranks high in critic polls of "the greatest albums of all time."
Have a Rotten Birthday!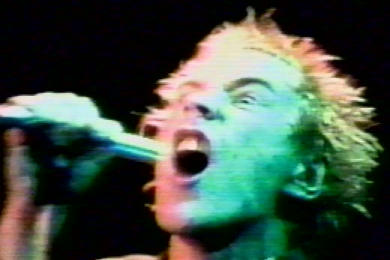 John Joseph Lydon born January 31, 1956
(R) = Listener Request
Artist
Song
Album
Year (Label)
Country
The Sex Pistols
Holidays In The Sun
Never Mind The Bollocks Here's The Sex Pistols
CLASSIC ALBUM OF THE WEEK
1977
UK
The Sex Pistols
No Fun (Stooges cover)
B-side of "Pretty Vacant" single / Flogging A Dead Horse LP
1977
UK
The Buzzcocks
Ever Fallen In Love (With Someone You Shouldn't've) (R)
Love Bites
1978
UK
Public Image Ltd.
Albatross
Second Edition (aka Metal Box)
1979
UK


The Sex Pistols
God Save The Queen
Never Mind The Bollocks Here's The Sex Pistols
CLASSIC ALBUM OF THE WEEK

1977
UK
The Sex Pistols
Sub-Mission
Never Mind The Bollocks Here's The Sex Pistols
CLASSIC ALBUM OF THE WEEK
1977
UK
Public Image Ltd.
Banging On The Door
Flowers Of Romance
1981
UK
Van der Graaf Generator
Door (live)
Vital
1978
UK
Peter Hammill
Nadir's Big Chance
Nadir's Big Chance
1975
UK
Peter Hammill
Birthday Special
Nadir's Big Chance
1975
UK
Van der Graaf Generator
Double Bass
Present
2005
UK


Hawkwind (Lemmy)
Silver Machine
7" single (In Search Of Space CD bonus track)
1972
UK
Motorhead (Lemmy & Larry Wallis)
Motorhead (alternate version)
On Parole (CD bonus track)
rec. 1975
UK
The Pink Fairies (Larry Wallis)
I Wish I Was A Girl
Kings Of Oblivion
1973
UK
Twink (Paul Rudolph - guitar)
Rock And Roll The Joint
Think Pink
1970
UK
The Deviants (Paul Rudolph - guitar)
Broken Biscuits
#3
1969
UK
Brian Eno (Paul Rudolph - bass)
King's Lead Hat
Before And After Science
1977
UK


The Damned
Neat Neat Neat
Damned, Damned, Damned

1977
UK
Patti Smith Group
25th Floor / High On Rebellion
Easter

1978
USA
The Clash
Bank Robber / Robber Dub
Black Market Clash
1980
UK
The Slits
New Town
Cut
1979
UK
Chrome
Armageddon
3rd From The Sun

1982
USA


Can
Butterfly
Delay 1968
rec. 1968
Germany
Faust
So Far
So Far
1972
Germany
Ash Ra Tempel
Freak 'n' Roll
Join Inn
1973
Germany


Public Image Ltd.
FFF
Album
1986
UK
Public Image Ltd.
Rise
Album
1986
UK
Neil from "The Young Ones" (Nigel Planer)
God Save The Queen (Sex Pistols cover)
Neil's Heavy Concept Album
1984
UK