September 23, 2008 Playlist
CLASSIC ALBUM OF THE WEEK

Pink Floyd "Wish You Were Here" 1975 (UK)

Pink Floyd was one of the most globally popular British groups of the classic rock era, and a big part of their mystique was the near-anononimity of these famous rock stars. And perhaps none of them was more anonymous than their keyboard player Richard Wright, who passed away last week at age 65. Besides providing the washes of organ and synthesizer that did so much to define the Floyd sound, Wright also wrote and sang a number of songs for the band over the years. One of the band's most satisfying albums is this gem from 1975, a rumination on rock stardom and in particular the demise of the band's original visionary, Syd Barrett, who was kicked out of the group in 1968 and passed away in 2006.

Here's a Syd Barrett tribute video a fan put together using a live version of the centerpiece

from this album,

"Shine On Your Crazy Diamond"

, which is a song about Syd. And here's the classic line up the band reunited a couple years ago and playing the title track to

"Wish You Were Here"

(also dedicated to Barrett.)

And did you know that Pink Floyd's classic album

Dark Side of the Moon

synchs up in significant ways with

The Wizard of Oz

? (Psychologists refer to this phenomenon as apophenia.) Here's the section of the film that corresponds to Wright's most famous composition,

"The Great Gig In The Sky"

.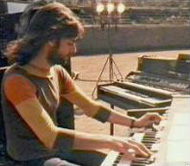 Richard Wright

of The Pink Floyd
28 July '43 - 15 Sep '08
R.I.P.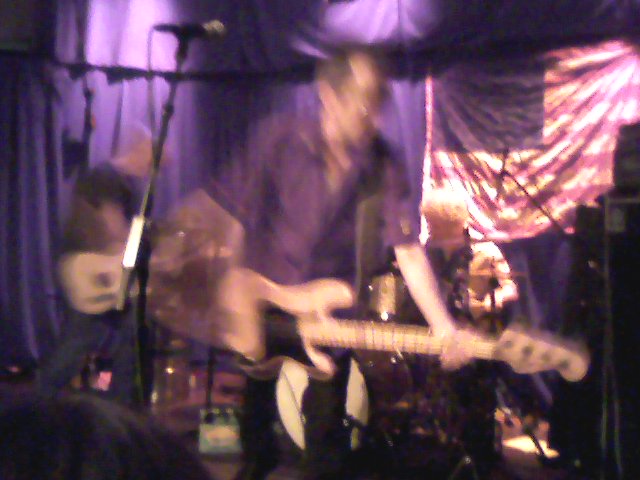 . . . and the return of KILLDOZER!
(click on the picture above to hear a message from Michael Gerald)
(N) = New Release

(R) = Listener Request
Artist
Song
Album
Year (label)
Country
The Trashmen

Surfin' Bird (R)

A-side 7" single

1963
USA
Sodom
Surfin' Bird (The Trashmen)
M-16
2001
Germany
Metallica (Cliff Burton died 22 years ago this week)
For Whom The Bell Tolls
Ride The Lightning
1984
USA
Edgar Broughton Band
American Boy Soldier
Wasa Wasa
1969
UK
Killdozer
One Tin Soldier (The Legend of Billy Jack) (Coven)
For Ladies Only
1989
USA


Pink Floyd
Remember A Day
A Saucerful Of Secrets

1968
UK
Pink Floyd
Summer '68
Atom Heart Mother

1970
UK
Pink Floyd
Stay
Obscurred By Clouds

1972
UK
Pink Floyd
Shine On You Crazy Diamond
(parts VI - IX)
Wish You Were Here
CLASSIC ALBUM OF THE WEEK

1975
UK


The Temptations (written & produced by Norman Whitfield R.I.P.)
Ball Of Confusion (That's What The World Is Today)
A-side 7" single
1970
USA
Stereolab
Cellulose Sunshine
Chemical Chords (N)
2008 (4AD)
UK/France
The Rick Ray Band
Violence Marred By Peace
Violence Marred By Peace (N)
2008 (Neurosis)
USA
Lunar Dunes
Seaspray
From Above
2007
UK
Unio and Petitio
Gillespie's Head
Cheers Fanx Ta (N)
2008 (self release)
UK
Big Block 454
Hi, Lax Old Medic!
Bratislava (N)
2008 (self release)
UK


Red Plastic Buddha
Clouds
Sunflower Sessions (N)
2007 (Spade Kitty)
USA
The Last People On Earth

All Things Come To An End
Electric Angel (N)
2008 (Tea House)
UK
Earthling Society

A Playground Mystery
Beauty & The Beast (N)
2008 (4Zero)
UK
Banana Slidewhistle

What's Going On At The Seashore?
Banana Slidewhistle (N)
2008 (self release)
USA


Killdozer
A Man's Gotta Be A Man
Intellectuals Are The Shoeshine Boys Of The Ruling Elite
1984
USA
Killdozer
Live Your Life Like You Don't Exist
Snakeboy
1985
USA
Monotonix

Deadly Weapon
Body Language (N)
2008 (Drag City)
Israel
Heroine Sheiks

Meurte Vous
Journey To The End Of The Knife (N)
2008 (Amphetamine Reptile)
USA
Cows
Sticky & Sweet
Peacetika
1991
USA
Husker Du
Obnoxious
Everything Falls Apart EP
1982
USA
The High Places
Shared Islands
03/07 - 09/07 (N - compilation of singles & odd tracks)
2008 (Thrill Jockey)
USA
Dan Deacon
The Crystal Cat
Spiderman of the Rings
2007
USA


Guru Guru
Baby Cake Walk
Känguru
1972
Germany
Man with John Cippolina
Many Are Called But Few Get Up (live)
Maximum Darkness
1975
UK (Wales) / USA