November 6, 2009 Playlist
Interstellar Symphonies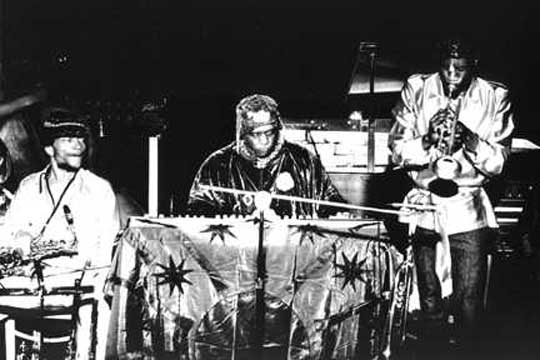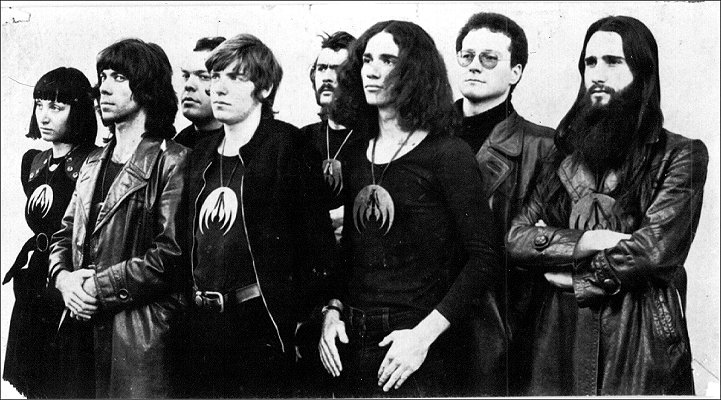 CLASSIC ALBUM OF THE WEEK

Sun Ra and His Myth Science Arkestra "Cosmic Tones For Mental Therapy" rec. 1963, rel. 1967 (USA)

"Interstellar Symphonies" is the theme of this month's special, and there is no artist more deserving of a CAOTW in this category than the late great Sun Ra. In fact, he's arguably one of the most original and influential musicians of the 20th century, full stop. Let us count a few of his major cultural and artistic innovations: for starters, he was probably the first "popular" musician to reinvent himself as a mythological character -- born Herman "Sonny" Blount in Birmingham, Alabama, by the 1950's he had legally changed his name to "Le' Sony Ra" and began to claim that he was from another planet. And his penchant for mythologizing went much deeper than creating an outlandish stage image -- his philosophies freely mixed concepts about ancient Egypt and outer space with a sort of "Black nationalism" which coincided with the larger civil rights movement, but went waaaay beyond. (George Clinton's Parliament-Funkadelic thang was in many ways merely a rock updating of Sun Ra's concepts; the French space-jazz group Magma also owes Mr. Ra a very large debt.) Sun Ra was also arguably the first "maximalist" composer -- by which I mean, he drew no lines as to what could go in his music and what couldn't. At various times everything from ragtime to blues and doo-wop to abstract freakouts to reggae and disco has appeared in his so-called "jazz" music (boundary-crossers like Frank Zappa, Miles Davis and even Neil Young also owe him bigtime.) Plus of course he was a pioneer in the use of electronic instruments (first electric keyboards in jazz, way back in 1956!) as well as "ethnic" instruments from Africa and Asia, including a number of implements invented by members of the Arkestra, such as the famous "Lightning Drum". There really has never been anyone like Sun Ra, and there never will be again.

So why pick this particular album from the 100 or so he released over the years? I dunno, I guess the lo-fi echo effects make this one a particularly obvious slice of very early "psychedelic" music -- though like many of Ra's early releases, this music was recorded several years before being heard by the public. While this music might have made perfect sense in 1967, it's amazing to think it was actually recorded in 1963 (back when the Beatles and Dylan were entering recording studios for the first time, and the concept of "psychedelic" hadn't even been invented yet.)

If you've never encountered this alien lifeform before, prepare to have your mind blown! First, let's visit with Sun Ra on his home planet (and here's more from his far-out "autobiographical" film Space Is The Place). Here's the incredible Arkestra in action: "Calling Planet Earth" features psychedelic video effects, while "Shadow World" shows the group going berserk in Europe back in the 1960's, and "Sound of Joy" shows them still at it in Japan 20 years later!
(N) = New Release
Artist
Song
Album
Year (label)
Country
Magma
Da Zeuhl Wortz Mekanïk
/ Mëkanïk Zaïn (live)
Hhaï
1975
France


Sun Ra & His Myth Science Arkestra
Moon Dance
Cosmic Tones For Mental Therapy
CLASSIC ALBUM OF THE WEEK
rec. 1963,
rel. 1967
USA
Sun Ra & His Myth Science Arkestra
Voice Of Space
Cosmic Tones For Mental Therapy
CLASSIC ALBUM OF THE WEEK
rec. 1963,
rel. 1967
USA
Sun Araw
Get Low
Heavy Deeds (N)
2009 (Not Not Fun)
USA
Sun Ra & His Myth Science Arkestra
Medicine For A Nightmare
Angels & Demons At Play
rec. 1956,
rel. 1963
USA


Earthling Society
Sci-Fi Hi Fi
/ Tempel Ov Flaming Youth
Sci-Fi Hi Fi (N)
2009 (4Zero)
UK
The Earthling Invasion
Oort Cloud
A Star Is Born (N)
2009 (self release)
USA


Amon Düül II
Surrounded By The Stars
Wolf City
1972
Germany
The Cosmic Jokers
Interstellar Rock: Kosmische Musik
/ Raumschiff Galaxy Saust In Die Lichtbahnen
/ Der Planet Des Sternenmädchens
Planeten Sit-In
1974
Germany
Alice Coltrane
My Favorite Things (John Coltrane / Rodgers & Hammerstein)
World Galaxy
1972
USA
Parliament
Mothership Connection
Mothership Connection
1976
USA


Tomita
A Spaceship Lands Emitting Silvery Light
/ Electromagnetic Waves Descend
/ A World Of Different Dimensions
The Bermuda Triangle
1979
Japan
Vangelis
Atom Blaster
Invisible Connections
1985
Greece
TONTO's Expanding Head Band
Jetsex
Zero Time
1971
USA/UK
Patrick Gleeson
Mars, The Bringer Of War (Gustav Holst)
Beyond The Sun: An Electronic Portrait Of Holst's

The Planets

1976
USA


Paul Metzger
After Milo
Anamnestic Tincture
2008
USA