December 18, 2009 Playlist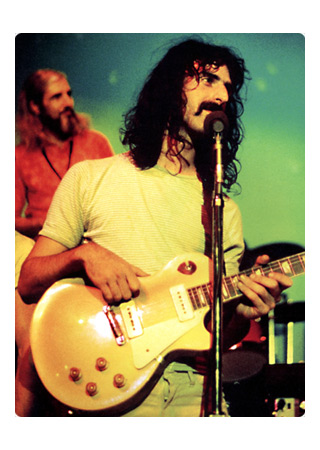 Frank Zappa Day is December 21


CLASSIC ALBUM OF THE WEEK

Frank Zappa "Lumpy Gravy" 1967 (USA)

Frank Zappa's birthday (Dec 21) is right around the corner, so it's time for our annual Zappa Day salute. The classic album this week is the first release credited solely to Frank Zappa (with "The Abnuceals Umuukha Electric Symphony Orchestra & Chorus"), rather than his legendary 1960's group The Mothers Of Invention (who had already released two albums.) It's one of his most bizarre albums, but also arguably his most groundbreaking and influential work.

Lumpy Gravy

was probably the first album to combine elements of classical, jazz, rock, electronics and studio effects plus surreal spoken word into a melange that was niether "pop" nor "avant-garde" but rather an original hybrid of the two worlds. "Art rock/progressive rock" and any record that fuses divergent styles of music from the highbrow and lowbrow worlds owes Zappa's pioneering work a large debt.

The Zappa Family Trust is a ruthless enforcer of copyright infringement, but this first clip is from overseas television so might be more likely to stay up for awhile:

The Mothers (with Jean-Luc Ponty) live in 1973. Next, here are a couple of Zappa's more memorable TV appearances: first, a clean-shaven 22 year old Zappa on the Steve Allen show

back before he was famous, and lastly this

interview from 1993, the year he died from cancer.
(N) = New Release
Artist
Song
Album
Year (label)
Country
The West Coast Pop Art Experimental Band
Help I'm A Rock (Zappa)
Part One
1967
USA
Good God
King Kong (Zappa)
Good God
1972
USA
Jean Luc Ponty
King Kong (Zappa)
King Kong: Jean-Luc Ponty Plays the Music of Frank Zappa
1970
France
Babe Ruth
King Kong (Zappa)
First Base
1973
UK
Grand Funk Railroad
Out To Get You (Frank Zappa producer & guitar solo)
Good Singin' Good Playin'
1976
USA


Frank Zappa
Lumpy Gravy, Part One
Lumpy Gravy
CLASSIC ALBUM OF THE WEEK
1967
USA


Frank Zappa
Lumpy Gravy, Part Two
Lumpy Gravy
CLASSIC ALBUM OF THE WEEK
1967
USA


Captain Beefheart & His Magic Band
The Blimp
/ Steal Softly Through Snow (produced by Zappa)
Trout Mask Replica
1969
USA
Nazz (Todd Rundgren)
Under The Ice
Nazz Nazz
1969
USA
Spirit
Ice
Clear
1969
USA
Queen
Stone Cold Crazy
Sheer Heart Attack
1974
UK
Thin Lizzy
Cold Sweat
Thunder And Lightning
1983
Ireland
Qui
Willie The Pimp (Zappa)
Love's Miracle
2007
USA
The GTO's
TV Lives (produced by Zappa)
Permanent Damage
1969
USA


Sun Araw featuring Matthew Lessner
Luther
In Orbit (N - cassette)
2009 (Stunned)
USA
Meat Puppets
I'm Not You
Sewn Together (N)
2009 (Megaforce)
USA
Os Mutantes

Teclar
Haih . . . Or Amortecedor (N)
2009 (ANTI-)
Brazil
Mission of Burma
SSL 83
The Sound The Speed The Light (N)
2009 (Matador)
USA
Psychedelic Horseshit
Forget All
Split 7" EP with Times New Viking
2007
USA


Wooden Shjips
Shrinking Moon For You
Shrinking Moon For You 10" EP
(bonus track on

Vol. 1

CD)
2006
USA
Silvester Anfang
Ossezaaddans
Sylvester Anfang II (N)
2009 (Aurora Borealis)
Belgium


Frank Zappa
A Kayak (On Snow)
/ N-Lite
Civilization Phaze III
1995
USA