September 23, 2011 Playlist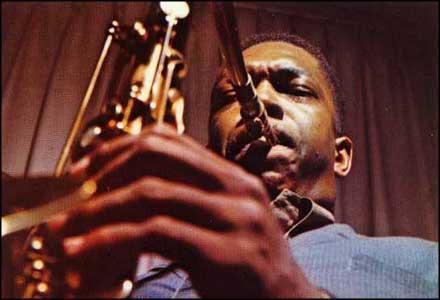 John Coltrane's 85th Birthday


CLASSIC ALBUM OF THE WEEK

John Coltrane "Meditations" 1965 (USA)

Today would have been John Coltrane's 85th birthday, so this week we're saluting one of the most important figures from the world of jazz. Coltrane first rose to fame when Miles Davis tapped him to play sax in his group around 1955, and by 1960 he had left Miles to lead his own groups exclusively until his untimely death in 1967. As an instrumentalist, Coltrane's modal "sheets of sound" style made him the most influential saxophonist since the revolutionary Charlie Parker. As a composer, his impact is equally great though harder to explain quickly. In the late 1950's he developed a system of modulating tonalities (the "Coltrane changes") which greatly influenced the jazz world, but it was after he began to explore "free" jazz starting around 1964 that Coltrane became a truly radical figure whose influence transcended jazz. Coltrane's free jazz was not rooted in avant-garde "art music", but rather was driven by his own personal spiritual quest. As such it has some similarity to the "space ritual" of Sun Ra and his Arkestra, though without creating his own new mythology. For Coltrane was intrigued by ALL world religions -- his late period works were usually given titles relating to Christian, Hindu, Buddhist and Muslim concepts (in recent years he has even been canonized as a saint by the African Orthodox Church).

Meditations

is one of Trane's most radically "free" recordings, featuring an expanded group with two drummers and Pharoah Sanders joining Coltrane as a second horn player. His other notable epic works from this era include the classic

A Love Supreme

, the big band freakout

Ascension

, and an oriental acid trip called

Om

. After John's death, his widow Alice Coltrane (who played piano in her husband's band) continued and expanded on this concept of "music as a spiritual quest."

Here's Coltrane and his classic quartet playing the opening section of

"A Love Supreme", and a 1965 version of their earlier hit

"My Favorite Things"

which shows the freer direction Trane was going in by that time (and the band is playing so hard they are literally giving off steam!) Coltrane was a significant influence on 1960's rock as well, as demonstrated by The Byrds hit

"Eight Miles High"

(with Roger McGuinn playing Coltrane-like leads on 12-string guitar), and The Doors breakthrough

"Light My Fire"

(which includes a lengthy modal jam which was probably inspired by the Coltrane version of "My Favorite Things").
(N) = New Release

Artist
Song
Album
Year (label)
Country
Traffic
Utterly Simple
Mr. Fantasy
1968
UK
A Tribe Called Quest
Bonita Applebum
People's Instinctive Travels And The Paths Of Rhythm
1990
USA
Genesis
I Know What I Like (In Your Wardrobe)
Selling England By The Pound
1973
UK
Mighty Baby
Egyptian Tomb
Mighty Baby
1970
UK
Kalacakra
Raga No. 1
Crawling To Lhasa
1972
Germany




GLÕW
With You Without
Sessions (N)
2011 (

provided by artist

)
UK
White Hills
We Will Rise
White Hills (N)
2010 (Thrill Jockey)
USA
Jackie-O Motherfucker
Raga Joining
Earth Sound System (N)
2011 (Fire)
USA
Grails
I Led Three Lives
Deep Politics (N)
2011 (Temporary Residence)
USA


Annapurna Illusion
Dizzy Vultures
Life Is An Illusion (N)
2011 (Rocket)
France
Residual Echoes
MFIGBSP Ride
MFIGBSP
2005
USA
The Stooges
Fun House
Fun House
1970
USA


The Byrds
Eight Miles High
Fifth Dimension
1966
USA
MC5
Looking At You
A-side 7" single
1968
USA
The Doors
Light My Fire
The Doors
1967
USA
Jefferson Airplane
rejoyce
After Bathing At Baxter's
1967
USA


John Coltrane
The Father The Son And The Holy Ghost / Compassion
Meditations
CLASSIC ALBUM OF THE WEEK
1965
USA
John Coltrane
The Night Has A Thousand Eyes
Coltrane's Sound
rec. 1960, rel. 1964
USA


Miles Davis (with John Coltrane)
All Blues
Kind Of Blue
1959
USA
Archie Shepp
Cousin Mary (John Coltrane)
Four For Trane
1964
USA
Eric Dolphy
Gazzelloni
Out To Lunch
1964
USA