June 20, 2014 Playlist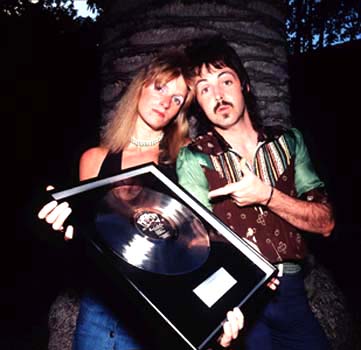 The Self-Indulgent Birthday Special Featuring Sir Paul McCartney

Klaatu "3:47 EST" (a/k/a "Klaatu") 1976 (Canada)

Klaatu is an enigmatic art-pop group from Toronto that recorded five albums and a handful of singles during the years 1973-1981. A silly rumour about the band being a secret Beatles reunion turned out to cause more problems than help their career in the long run; the deliberate obscurity that surrounded the group was both a blessing and a curse. For you see, the first three LPs released by the group provided absolutely no information as to who was in the group: not their names, no pictures, nor even a sense of how many people were in the band. In fact, they were a trio of brilliant studio production engineers (John Woloschuk, Dee Long & Terry Draper) who labored intensely to come up with their immaculate sound which strongly recalls not just Beatles but also Pink Floyd and The Moody Blues. I believe they kept their image so mysterious so that they would be judged solely on their music and not their "presentation" (they were shy guys who probably would not have looked so hot disco dancing in tight trousers). The first Klaatu LP (this week's classic) is the one that is best-remembered, producing the unlikeliest hit single in The Carpenter's discography when that group covered "Calling Occupants Of Interplanetary Craft", and the flipside "Sub-Rosa Subway" which really does sound like something Paul McCartney & Wings might have done (Woloschuck has a remarkable ability to sound like Paul, John and George at various times . . . though the other songwriter Dee Long's material is groovy hard rock that sounds nothing like any Beatle!)




Black Flag "Slip It In" 1984 (USA)

A second bonus classic album is my birthday gift to you! I have a theory that almost every hip kid goes through a "punk phase" and everyone has a different favorite punk band that speaks to them more than any other. Well with the fullness of time, my favorite probably has to be Black Flag (even more than Sex Pistols and Stooges, whom I also loved as a snotty youth . . .) The Flag's earliest records took the punk aesthetic as far as it could go - literally nobody could play shorter, tighter, faster, more stright-to-the-point and in-your-face anthems than the sixty-second ditties on their first handful of 7" EP's from the late 1970's. Then Hank Rollins joined, and their first full-length LP

Damaged

set a new standard in teeth-gnashing, fist-in-the-face angsty bad feelings punk. Not being done yet,

My War

followed with a revamped heavy metal sound that paved the path that leads directly to "grunge rock". But my favorite of all their albums is the one that came next after that, this week's bonus CAOTW. With a brilliant batch of hard-rocking riff songs running up to six or seven minutes in length and drenched in epic jazz-skronk guitar solos inspired by Mahavishnu Orchestra (!!! and Greg Ginn was also a major Deadhead and even Genesis fan!), there is simply nothing like it in the world of punk. For sheer sweaty musicianship and striving forward against the trends and currents: Black Flag rules!



(N) = New Release


(K) = live radio Kosmik remix



Artist
Song
Album
Year (label)
Country
The Royal Guardsmen

Snoopy Vs. The Red Baron

A-side 7" single

1966

USA

The Monkees

Circle Sky

Head

1968

USA/UK

Black Oak Arkansas

Dancing In The Street (Martha & The Vandellas)

Street Party

1974

USA

Dr. John

Mess Around (Ray Charles)

Dr. John's Gumbo

1972

USA

Yoko Ono Plastic Ono Band
Bad Dancer
Take Me To The Land Of Hell (N)
2013 (LAB 344)
Japan/USA

Tom Jones

Thunderball

A-Tom-ic Jones

1966

UK (Wales)

Jack Jones

Sweet Gingerbread Man

All To Yourself: 20 Golden Greats

c. 1972

USA

The Beatles

Penny Lane

Magical Mystery Tour

1967

UK

Chicago

Saturday In The Park

Chicago V

1972

USA





Klaatu

Calling Occupants Of Interplanetary Craft
Klaatu (a/k/a

3:47 E.S.T.

)
CLASSIC ALBUM OF THE WEEK
1976

Canada
The Beatles

Across The Universe ("nature" version)

Rarities (originally released on

No One's Gonna Change My World

various artists compilation)

1969

UK

Klaatu

Little Neutrino
Klaatu (a/k/a

3:47 E.S.T.

)
CLASSIC ALBUM OF THE WEEK
1976

Canada
Klaatu

Older

Sir Army Suit

1978

Canada



Black Flag

The Bars

Slip It In
2nd BONUS CLASSIC ALBUM OF THE WEEK
1984

USA

OFF!
No Easy Escape
Wasted Years (N)
2014 (Vice)
USA
Slayer

Die By The Sword

Show No Mercy

1983

USA

Swans
Screen Shot
To Be Kind (N)
2014 (Mute)
USA
The Beatles

It's All Too Much

Yellow Submarine

1968

UK



Vosellglaas

Dreiii
Dreiii

2008

USA
The Sheep Fiends
The Weakest Selector

forthcoming album, title TBD

(N)
2014 (Sheep Fiends)
USA

Dethkorpz

Tacocat
Apocalypse 1999:6661

2000

USA
Tacocat
Psychedelic Quinceañera
NVM (N)
2014 (Hardly Art)
USA
The Walking Faces
It Could Be Time
Rehearsal EP (N)
2014 (Cosmic Primitive)
USA

Dethkorpz

Photograph (Def Leppard)

unreleased rehearsal tape



c. 2001

USA
Steely Dan

Green Earrings
The Royal Scam

1976

USA
Hall & Oates

I Can't Go For That (No Can Do) (Kosmik Birthday remix)
Private Eyes

1981

USA
Ariel Pink's Haunted Graffiti

Credit
Worn Copy

2005

USA



White Cloud (Dave 3000)

My Nation Underground

unreleased recording



2011

USA
The Fireman (Paul McCartney)

Auraveda
Rushes

1998

UK